So being the kinda Dad I am, decided my son's bike needs to be brought up to standard!!!
Yes its another Trek, BUT I got it for $20 on craigslist!!!! Ya you read that right, ppl didnt know what they had it was a gift for their son that relatives bought who out grew it!!! $300ish new (new versions don't look much different besides forks). Needed SERIOUS TLC when I got it.
Boy wanted a MTB for his bday, I told him if he was off training wheels I would get him one. He turned 6 last summer when I got this. We rode a few miles every ride, max ride was 12 mile ON HIS TRAINING WHEELS on a transformers 16", was a 1/2day ride for a 5 yr old lol but he did it with nothing but smiles.
Heres pic from Lock n Dam 13, the point we turned around, I have the MapMyRide data that was with this pic to show off to everyone I knew that day: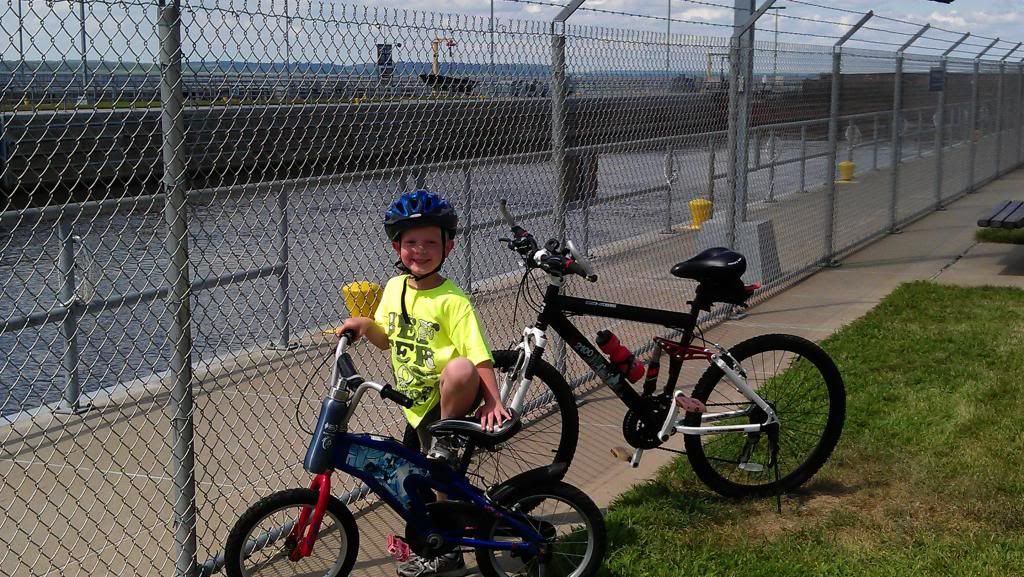 The day I took them off, we rode 4 miles with them on then went to park where there was a basketball court. I took them off. Went over with him the things to do and not to one last time, then told him to GO! He took off like hed been riding without them for months! This was a couple weeks before his bday.
I started looking, a few bikes looked cool but was having issues. When it comes to my boy I dont like to buy cheap if its something important to him... bad like that. Found a couple good ones for around $100. Was about to order my choice when this bike popped up on craigslist. I was gone on the 45min drive like a SHOT!!!
Got it home started tearing down to see what I needed, grabbed the couple parts from lbs and such. Next weekend was my weekend with him (few days before bday) and I couldnt resist. He helped me get it going again and was great about knowing he couldnt ride it till his b-day.
Did awesome on rides, rode 18miles with me one day, have to find gps map, paved Great river path between fulton and thomson Illinois, we live in fulton, rode to LBS in thomson and back.
Coem october was "Take my kid MTBing Day" which the club we joined that day was hosting. He did insane, freaking took off with the couple kids and lead adult left me way behind. Barely 2 months off his training wheels:
Now I get bugged constantly about riding, took him to those same trails a couple times before it got too cold, I promised him anytime he wasnt in school that I go to those trails when its warm enough I will bring his bike and pick him up on the way. That location is very easy, any ups or downs are very short, sometimes steep but really short. Great for him to learn cause area is small overall and technical areas have bypasses. When hes ready I told him he can ride with me on the next trail set thats much longer loops but still very easy lvl riding.